Account Management Services
Want to Avoid Being Suspended by Amazon or eBay?
We monitor, track, and analyze seller central accounts to resolve issues before Amazon or eBay suspends your account or listings.
We provide a variety of services for Amazon & eBay Seller accounts tailored to your specific needs. Our ecommerce solution provides critical detail on product listings, product quality, returns, and defects that allows you to proactively resolve issues before Amazon takes suspension action against your listings or your Amazon or eBay account. Gain peace of mind knowing we are on top of your metrics, performance notifications, stranded inventory, listings, shipment reconciliations and much, much more!
Our Amazon & eBay Account Management services are tailored to your needs. Changes in Vendor policies, false claims, listing compliance, and sneaky tactics by bad actors are no match for our team of experts tracking and analyzing this data every day in order to take action before Amazon or eBay does. Our wide range of services and versatility means we can customize the right solution for your pain points.
Not knowing what you don't know is scary as an online seller. With our established proprietary process of monitoring and tracking your performance and other buried data, you can focus on what you do best – selling – knowing you have a smart team handling the administrative details.
Daily monitoring of performance metrics means we can see a lot of potential issues before they become suspensions and help you fix them.
Our consultants and analysts have been trained by one of the best Amazon compliance experts in the business – Cynthia Stine. Our large team of 40+ means we have a huge collective database of experience on how to handle Amazon Seller account suspensions and reinstatements.
Imagine the relief of not having to find an expert when you are hit with a crisis. You already have us and we can jump on a call or email whenever something comes up. We are here for you.
Our retainer clients and all our Amazon Account Management clients get discounts on our Amazon seller central services depending on their length of time with us – up to 30% off!
We handle the weekly tedious Amazon account management tasks like shipment reconciliations, reimbursements (FBA sellers), stranded inventory, buyer complaints, refunds and more for you. You get to focus on selling instead of sending endless cases to Amazon Seller Support
Always Know What We Are Doing for You
Our weekly, monthly and quarterly reports keep you in the know.
Our US based consulting team and PH-based analysts all speak and write clear English. Our structure gives you multiple ways to get help at any time through your analyst, their manager, your consultant, their assistant…you have a team behind you. We work through email, Slack, Zoom calls, Teamwork – you name it.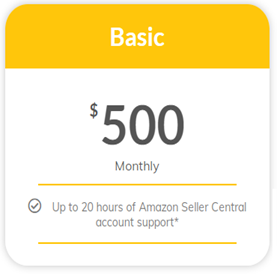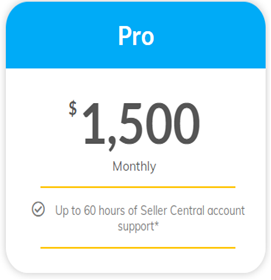 Providing Complete Ecommerce Product Data Entry Services Globally
Our pool of expert data encoders can skillfully manage your business' data catalogue
Why do ecommerce product data entry services exist?
Commerce businesses these days have an eye on the online channel to boost their revenue, which is the primary reason for the ecommerce industry to expand across the world. To successfully run an ecommerce store, product entry and information management are of utmost importance.
Do you deal with large volumes of data for your online retail store daily?
In-house employees for product data entry is a costly affair as it usually involves building up a big team of people for various data entry processes.
Product data entry educates your visitors by offering details of your products and services. Since it's a tedious and time-consuming task, most ecommerce stores outsource their product data entry tasks to save their precious time and focus on other more critical tasks core to their business.
Our excellent product data entry service can offer robust support to your ecommerce business.
Hire us to handle your ecommerce product data entry tasks. We can create custom processes for your business to manage your product data catalogue efficiently.
Why Choose Our Product Data Entry Service?
We are experts at ecommerce product data entry management
To run a successful online retail store, experience goes a long way. But another critical factor that plays a vital role in this is how well you can manage your tedious product data entry tasks.
Below are the reasons why our clients love us and choose us over our competitors:
Our product data entry experts do the task to upload, update, and manage products on different marketplaces like Amazon, eBay, and other online retail stores. Do you want to add new products to the existing database but they are too many, and you have too less time? Give our streamlined ecommerce product upload servicea try.
Trained Manpower- We have a pool of highly experienced professionals who thoroughly trained at managing data entry for large volumes of products.
We take time to understand your business requirements thoroughly. Listening is an art that requires keeping others over self. And we always ensure to keep our clients above ourselves.
Our ecommerce product listing serviceoffers quick turnaround time to keep you one step ahead of your competitors.
We offer immaculate round-the-clock support of all kinds, which is a significant reason for our clients to put their trust in us.
We make use of sophisticated technology to handle vast amounts of data. This ensures high accuracy of product data.
We offer complete security and privacy of our clients' data. Data privacy is
Our prices are exceptionally cost-effective.
We adhere to quality management benchmarks and evaluate the quality at regular intervals. Failing in this domain can result in poor performance of the online retail store.
Our product data entry experts are SEO driven, and they ensure to integrate the best SEO practices while managing product data entry tasks.
Learning by making mistakes is what most of us do. But the wise thing to do is to find someone who is experienced and learn from them. We started our journey by making a lot of mistakes, and that is what has made us experts at what we do today.
Outsource your ecommerce data entry tasks and save yourself from making mistakes that we already did a long time back.